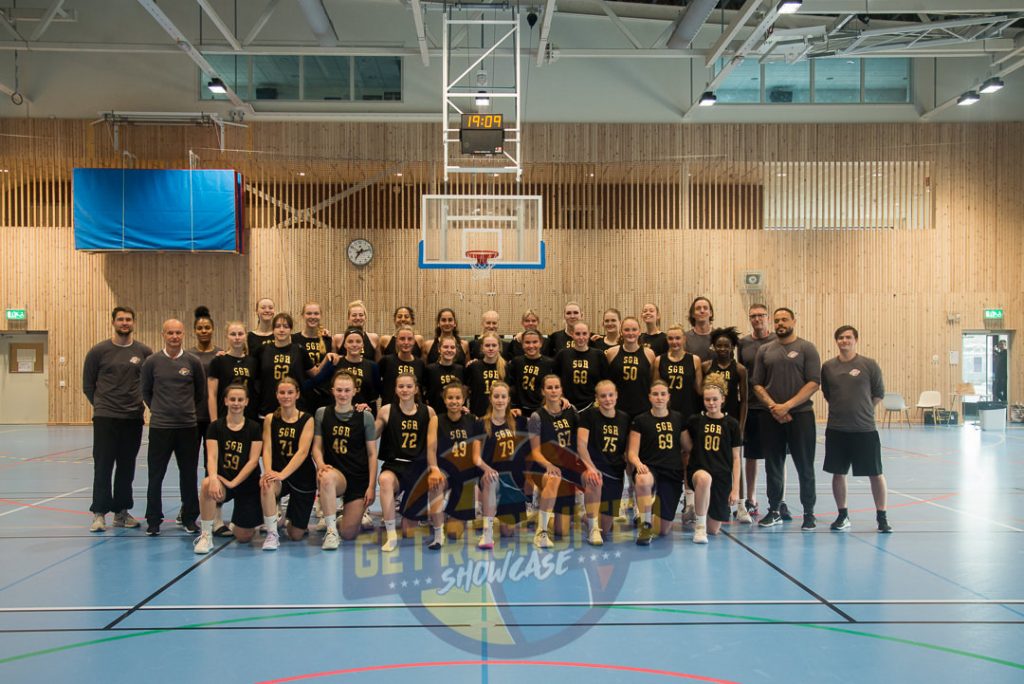 Our first showcase was an enormous success, as we hosted the top high school basketball players in Sweden in front of over 130 college programs via stream. We hope to continue to grow this event in the future and provide a platform for the best players to follow their basketball dreams. All the participants at the showcase showed that they belonged there, but here were a few notable performances that caught our eyes:
6'8" 2022 Felix Bröstrom (RIG Mark)
The most surprising breakout performance at the event by far belonged to 6'8" 2022 swingman Felix Bröstrom. He displayed one of the highest motors of any of the participants, and that was just the beginning. He showed an explosive first step, a variety of finishes, a quick trigger on a smooth jumper, and the ability to make plays for others off the dribble. He showed impressive range both off the catch as well as off the bounce. Defensively, he possesses the athleticism and length to guard a few different positions, as well as the ability to play passing lanes and come up with deflections and 50/50 balls.
6'9" 2022 Bobi Klintman (RIG Mark/Sunrise Christian Academy)
Klintman showed exactly why he's the highest-recruited prospect in Sweden—the versatile 6'9" Malmö native displayed the whole package: size, length, range, athleticism, and an ability to create off the dribble at a high level. Not only was he able to score at an impressive clip, but facilitated in a way not often seen in players his size. Intangibly, he was one of the most vocal, competitive players on the floor and stood out as a leader, even at an exposure event.
7'1" 2022 William Berg (Luleå)
The biggest body at the event was 7'1" center William Berg—showed surprising quickness and agility to go along with flashes of a versatile offensive package. What stood out the most though was his presence as a rim protector; blocked and changed multiple shots in every game, often above the rim—including blocking a number of dunk attempts. Also showed flashes of range, which should only continue to improve.
6'6" 2021 Jacob Hadi (Norrköping)
A player we knew little about before the showcase displayed why he's a hidden gem in Sweden. The wily 6'6" combo guard displayed confident range, playmaking ability, and that he can score it in a variety of ways.
Showed a good feel on offense, and willingness/ability to defend both smaller guards and bigger forwards; also has a nose for the ball via deflections, steals, and winning 50/50's.
6'8" 2021 William Humer (Luleå)
William is a big body who definitely had some impressive offensive flashes at our event—willing to bang inside, but also shot and hit numerous threes with confidence, passed it well, and took other big players off the dribble. Defensively was able to hold ground inside and did a nice job of rotating/walling up to change shots and force players to pass.
6'0" 2023 Mikai Klintman (RIG Mark)
Easily the most explosive open court player at the event, Mikai Klintman is fun to watch—proved to be shifty player who plays an aggressive brand on both sides of the ball. Coaches will love his ability to pressure the ball full-court on defense as well as the fact that he's good for multiple steals and deflections a game. Offensively he showed a steadily improving jumper to pair with his already electric transition finishes and high-level distributing skills.
Girls
6'2" 2021 Ida Jonsson Ojala (Norrköping)
One of the most surprising performances on the girls' side belonged to 6'2" 2021 forward Ida Ojala. She showcased an array of moves in the post, with sharp footwork and impressive patience. To go along with the inside game, she also proved to be able to hit trail and pick-and-pop jumpers as well as attack off the dribble. Defensively, she looked comfortable guarding both inside and outside, communicated well, and rebounded aggressively in traffic.
6'0" 2023 Astrid Frankl Sandberg (Fryshuset)
Astrid caught a lot of eyes at our showcase—at 6'0", she's a big guard who showed a solid mix of scoring and playmaking ability. Smaller quicker guards had trouble matching her physicality, while bigger players had their hands full trying to stay in front. Defensively, she was comfortable guarding everything from point guards to centers, and was one of the tougher overall players we saw.
6'5" 2021 Lovisa Ejbyfeldt (Onsala)
For coaches still shopping for a center, you might be in luck. The 6'5" center showed a lot of qualities that could translate immediately—she rebounded well, moved well, Bc and was not afraid to slide over on defense and assert herself as a shot-blocker. On offense, Lovisa showed an aggressive, inside-first game, but with the ability to step out and hit jumpers too.
5'9" 2022 Tilda Sjökvist (Wetterbygden)
One of the standout guards at our event was 2022 PG Tilda Sjökvist. She was a vocal floor general—played with great pace, was an impressive distributor, and provided a constant spark on the offensive side. She also shot it extremely well, and proved to be a pesky defender with a knack for coming up with steals and loose balls.
6'2" 2022 Marwa Bedziri (Fryshuset)
One of the standout forwards at the event, 2022 Marwa Bedziri showed a versatile, high motor game that has already garnered some legitimate interest. She was not only comfortable in the post with a good mix of physicality and finesse, but also showed a nice from the perimeter. Was extremely effective in short roll situations. On defense, she guarded multiple positions and came up with a slew of steals, deflections, and 50/50 balls.
6'4" 2024 Tilda Trygger (AIK)
Remember this name, because she might end up being one of the top prospects to ever come out of Sweden. Standing 6'4", Tilda Trygger proved to be extremely versatile, able to operate with confidence both inside and on the perimeter. She often started the break herself after rebounds, and showed the ability and vision to create for others. Defensively, she has the potential to guard multiple positions.